We haven't blogged in a while and we're not exactly sure. Maybe we're suffering from exhaustion. Maybe we're saving our creative juices for Baseball Prospectus Idol. Maybe we're storing up for the NBA Playoffs.
About that last point, the NBA Playoffs begin today. The thing about the NBA playoffs is this: it takes fucking forever. Remember this when it's June and you're looking for a nice DMS post on
Texas' secession from the union
and all you get is a 2000 word exegesis on Delonte West's inability to move laterally. Like the election swallowed up our entire 2008, the NBA playoffs will swallow up the next three months. You've been warned.
Everyone expects the Cavs and Lakers to meet in the finals. And most people expect the Cavs to prevail. And here's the weird thing: Cavs fans expect to prevail.
The Cavs have the best record in the NBA. They have the best player in the NBA. They have home court advantage throughout the playoffs, where they simply don't lose. They have good team chemistry. They're relatively healthy. They're well coached and well constructed. They play great defense. They have excellent depth.
Put simply, if it doesn't happen this year, we can go ahead and assume it will never happen.
------------------------
Now it's time to announce a contest for which we already have the results: find the funniest/most racist "tea party" sign. And now, the results.
There were lots of extremely offensive signs,
too
many
to count really. Some were
offensive
. Some were
spelling-challenged
. Some were
self contradictory
. Others were
extremely offensive
. So let's go with funniest. That goes to this man/poor-guy here.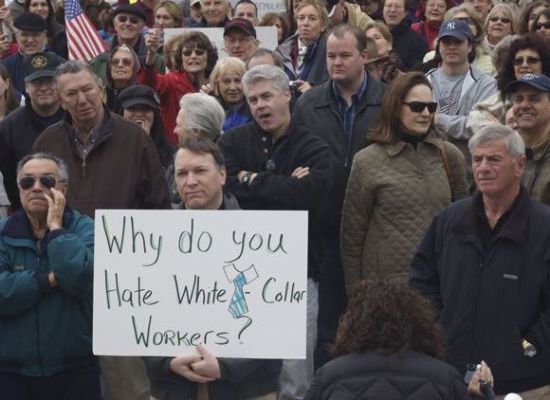 ------------------
The new
St. Vincent
album comes out May 4. We've heard three songs and love all three. Early front-runner for album of the year. More on this release as it comes out.