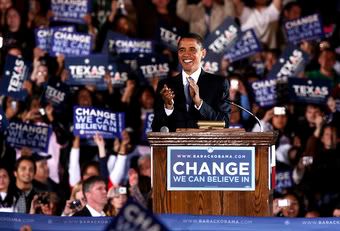 Tomorrow, record breaking numbers of primary voters will head to the polls (many already have). In Ohio, Rhode Island, and Vermont voters will cast a vote for their candidate of choice. In Texas, voters will cast a vote for their candidate of choice, then, if they so desire caucus for, presumably, that same candidate.
Having already voted for Obama, Dear Mr. Supercomputer intends to caucus for Obama tomorrow night.
Why?
People cite inexperience most often when describing when not to vote for her. Personally I find that to be a plus, but most people apparently do not.
So why am I caucusing for Barack Obama over Hilary Clinton? Let's run down the reasons.
Rolling back the Bush tax cuts.
The Bush tax cuts I believe was one of the most economically irresponsible acts of my lifetime. You don't cut taxes just as we're about to go to war. It was essentially a big middle finger to our children. Sure, they scored major political points with conservatives, but let's face it: our kids are screwed. Both Clinton and Obama have declared to roll back the tax cuts, but I believe Obama is more apt to follow through.
College tuition for community service.
The idea of redeeming $4000 of tuition for giving back to the community or world at large is one I can get behind and one I wish had been around.
Ethics.
Perhaps the quintessential political issue concerns getting the money and the lobbyists out of the political process. I'm not sure any of these issues really matter until you deal with this. Obama has always championed political ethical reform.
A foreign policy of discussion and diplomacy, even with out enemies.
When he first suggested that he would talk to our enemies without preconditions, pundits chalked it up to inexperience, like he misspoke or something. Turned out that he meant it. And that lots of other Americans see the value in actually talking to our enemies. It's going to take a lot to get the opinion of the U.S. back up. This would be a step in the right direction.
He's African-American.
Let's not beat around the bush on this one. And don't diminish it. I'm not saying that you are obligated to vote for Obama because he's black. However, it cannot be denied that what it represents has value.
The possibility of a landslide.
Major reform in the U.S. is not going to happen with a 51-49% victory. It's also not going to happen unless there's a major usurping of Republican power in Congessional elections. Obama has demonstrated the ability to get independents to come out and vote Democratic. Conversely, nothing would galvanize the Republican base like running against Hilary Clinton. Fairly or unfairly, Clinton would at best with a 2-3% majority, and meanwhile her name on the ticket might cost the Democrats several Senate and House Seats (just like her husband did). The ceiling on Obama is much higher. A 55% majority in the popular vote and a 60-40 seat advantage is the only way to bring about major health care and economic reform. Hilary won't be able to get that. It's not just "electability," it's "landslide-ability."
The energy of the Obama voters.
Again, while you can suggest this is not necessarily a substantive point, you cannot deny its importance. The Democratic party has a change to energize itself like never before. If it were to lean Clinton's way, I think that would be a big "fuck you" to the youth vote, and the staggering one million+ people who have donated to his campaign.
Obama politics.
For the first time in my lifetime, we are on the brink of having a President who truly understands, invokes and employs ground-up politics. Some call it grassroots. But it's truly bottom-up, whereas every other candidate is top-down. The way the campaign has been run and funded reflects and embodies this ground-up style politics. He will get people involved that never have been. He already has. He will be the most interactive President of our lifetime.
Obama the person.
When it gets right down to it, people more often than not, simply vote for the person they like better. And I like Obama. I prefer the person who's a few years removed as a civil rights attorney over the person a few years removed from the board of Wal-mart. I prefer the person who is engaging and energetic and consistent over the person who is only one of those three things.
What's particularly scary about that last point is that John McCain is actually a pretty likable guy. In fact, it would be difficult to see him losing against Hilary. All that "experience" and "red phone, 3 AM" bullshit goes right into his wheelhouse. In fact, we might have even voted for McCain over Gore and McCain over Kerry. While we wouldn't vote McCain over Hilary, we also probably won't vote Hilary over McCain.
In fact, if Clinton wins the nomination we'll probably have to write in the following:
Yes that's right. We'd write-in vote for
Inanimate Carbon Rod
for President. You think I'm joking, don't you....
So, to the state where I was born and the state where I reside, vote for the one man who can bring together
Arcade Fire
and the Black Eyed Peas (below),
vote OBAMA!