I somehow forget how much I hate Fall Sundays during the Winter, Spring, and Summer. It slips my mind what a wreck I become on Sunday.
It starts at 7:00 AM when Toddler Supercomputer wakes me up. This usually isn't too much of a problem, except I naturally drink on Saturday nights. Not to excess, but I usually stay up for a while watching movies or something. Either way, 7:00 AM is too early on Sunday.
But it's not that.
It continues at 9:00 with
This Week With George Stephonopolis
followed by
Meet the Press
. Today they had John Kerry on
George
. That's enough to make me want to crack open one of my leftover Dos Equis from last night. (note: the picture is actual size)
But it's not that.
I have to prepare for work and it's always hanging over my head. The next week starts playing in my head. Grading papers. Planning lessons. Trying to remember what we did in each class. Stressing out already about what lies ahead.
But it's not that.... okay. It's sorta that.
But no, the reason I hate Fall Sundays is the same reasons football fans love them: the NFL consumes you.
So shouldn't I be excited? Shouldn't I be "ready for some football" after several months of free and unencumbered Sundays?
I should, but I'm not. I've
described it as an "abusive relationship"
and I think I'll stick with that. Actually I said that in reference to being a Browns fan, but it's apropos for the NFL in general.
The NFL ambushes you for eleven straight hours starting at 11 AM pre-game stuff so we can watch a black moderator fake laugh with three white ex-players fake laugh.
And then we've got the noon games, the 3:00 PM games, and then
Football Night in America
which is
Adam'
s favorite titled for a television program at 6:00 followed by the game that runs until at least 10:00. All the while we're bombarded with John Mellencamp teaming up with Chevy to remind us exactly whose country this is while hawking a truck.
What the fuck just happened to my Sunday??!
I've been sitting here for 11 hours wasting my life away, following stupid scores and a stupid fantasy team and my stupid pick'em league with my
stupid
family?!
Well, yes.
And before you start the whole, "just turn the TV off and go for a walk or something!" card, you simply don't get the predicament I'm in. It's like being a recovering alcoholic and working in a liquor store, except you can't quit because you really need the money: you're just flat screwed.
So yes, I hate Fall Sundays for the same reason I love them. And this week we have the dynamic match-up of this:
versus this: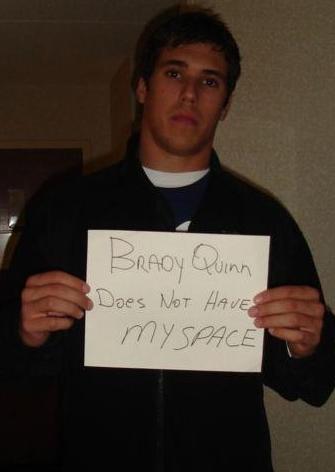 (P.S. For those keeping count, this is the mother of all rivalry weeks. Not only does Adam's and my favorite teams go against each other - he likes the
gay-steel mill
team - but also our storied fantasy teams go against each other. In related news I put Addy's most recent diaper in his mailbox.)
(
Update: The Browns season is about 5 minutes old and they're losing 0-10. I think they've been mathematically eliminated from the playoffs already.)