(What follows first appeared on a message board some years ago. It has been updated, revised and edited to better reflect the 2007 era, and the high standards of Dear Mr. Supercomputer. It might be the finest piece of prose DMS has ever written.

And while I absolutely hate fantasy football, I play it religiously. Pretty much to the point of obsession. I hate it and I love it. It's unhealthy I know. Almost as unhealthy as being a Browns fan.)

------------
On the eve of the our fantasy football draft I've decided to compose a by no m
eans exhaustive list of Why Fantasy Football Sucks (at least, compared to fantasy baseball, which probably sucks worse, by the way).
Whether it's from my general unpreparedness for the draft or having my mood soured by an hour of Baby Supercomputer's constant screeching while Mrs. Supercomputer is out enjoying a Tori Amos concert (she's into that whole angry-piano-chick scene), there are just too many grotesque aspects of fantasy football to not be laid bare for the world to see.


This list is not exhaustive. I, however, am exhausted. So I'm sure I'll think of many more reas
ons why fantasy football sucks as the year goes on. And rest assured, I will
remind you all of them.
Until then, I give you the 10 Qualms
Qualm 1)
The success of a fantasy football team is inversely proportional to the manager's knowledge of pro football.
I have seen this trend in almost every fantasy football league I've been in. Or even if it's not inversely proportional, it's entirely random. Never can you have a room full of people and say, "That guy sure knows football! He's going to destroy his fantasy league!" It's like those absolute morons they used to find for the Millionare Show. These people were no smarter than your average person and they end up winning thousands of dollars. It's the same way with fantasy football. Meanwhile the suckers/geniuses on Jeopardy! are fighting amongst themselves for peanuts. I'd be willing to bet respected NFL GM Scott Pioli would be an average fantasy football player.
Qualm 2)
The RB problem.
This fall, there will probably be 20 running backs selected in the first two rounds of your fantasy draft. This is absurd. You are telling me that Travis Henry is one of the best 24 players in football? I think if I said that aloud my tongue would snap off its roller. Imagine a baseball league where 90% of the first two rounds were shortstops. M
ore to the point, it doesn't even matter how good these running backs are. As fantasy football players, we really don't care. We just want make sure that our RBs get 20+ touches a game. And if it means drafting Travis Henry over Marvin Harrison, so be it.
Qualm 3)
The TD Problem.
As a frequent (and therefore masochistic) owner of Fred Taylor and Jeremy Shockey, this drives me, and every fantasy football player at times, absolutely batty. So you're telling me that Moe Williams falling forward 36 inches is more important than the 50 yard reception that got them there? And unfortunately there's really no way to fix this problem due to the next qualm I have...
Qualm 4)
No Statistical Significance.
Yards and TDs. TDs and Yards. Everything else? Don't care. And I guess the problem is there really isn't anything else. Attempts? Umm, no. In fantasy baseball you have all sorts of meaningful statistics that allow you to construct a team where you're worried about more than just two categories. As an avid reader of Baseball Prospectus and a Math major who has contemplated getting a Masters in Statistics, this frustrates me. I like things easily quantified. And the best we can do in football is Yards and TDs. TDs and Yards. There's a fledgling attempt at a
Footb
all Prospectus
, but it's really a lot of smoke and mirrors and statistical chicanery (but I applaud them for trying and hope they succeed in refining their methods). I'm sure there's a lot of football fans who enjoy the real lack of meaningful statistics, but in fantasy football, it makes for a droll experience.
Qualm 5)
The Free Agent Problem.
Happens every year. It will happen this year. Some undrafted player will have a big week. And the schmuck manager who is lucky enough and quick enough or high enough on the waiver wire due to their team's awfulness (note: not "smart" enough) will get the breakout player of the year and destroy the league as a result of this virtual lottery. Anquan Boldin, Priest Holmes, Antonio Gates. I know this happens in any sport, but in fantasy football it's especially obnoxious because A) I never get that player and B) It's all it takes to win the championship. In fantasy baseball one player might give your team a boost, but it won't win the league for you. In fantasy football, if you strike gold on the waiver wire, well then you've just won the championship. Which leads me to the next qualm....
Qualm 6)
Those Tiny, Tiny Rosters.
1 QB, 2 RB, 2 WR, 1 TE, 1 K, 1 DEF. And maybe a FLEX POSITION! Oooooooooooooh!!!!! 8 players? I'm spending five hours of my labor day weekend for eight players a week?? This is why Qualm #5 is so problematic. All it takes is one breakout performance or one bust and your season is either made or done. And speaking of rosters...
Qualm 7)
Those Ridiculous Rosters.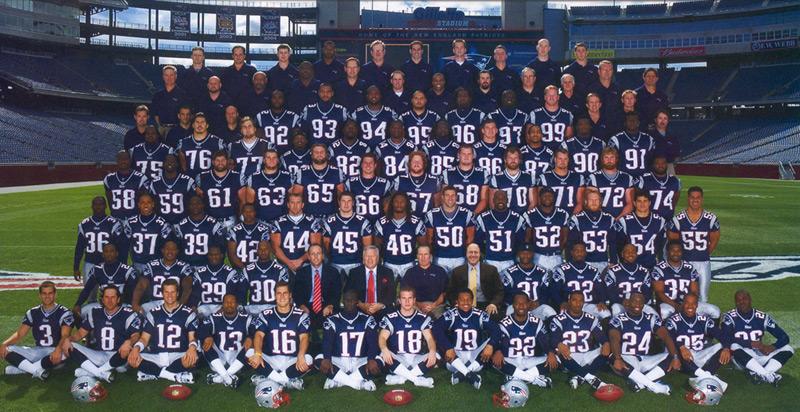 Behold, the first pick of the 8th round of your fantasy draft.
Because of Qualm #4 we have absolutely no meaningful way of attributing points to defensive players. So I have an idea! Let's just lump all defensive players on a team together and you can draft entire defenses!! Does anyone else see how utterly foolish this is?? Imagine drafting the Florida Marlins' Pitching Staff. Or the Padre Bullpen. Or the Mariner Infield. And let's not forget the obligatory kicker. "Awww geez. It's been 13 rounds. I've covered all my bye weeks. I better get a kicker. Who's still there? Ok, I guess I'll take... uh... hold on a sec... is Morton Anderson still around? No? What about Olindo... what's his name?.. Marry? Mare? Yeah that's it. I'll take him." It just an embarrassing part of the draft altogether.
Qualm 8)
Frantic Stat Watching Sundays.
I can honestly say that I haven't enjoyed a regular season NFL game since I started fantasy football way back in 1998 except for the ones I've attended. I mean enjoyed, where you sit back and watch the game and maybe root for a particular side. No, every single freaking play in the NFL affects my fantasy team somehow. "Did he get in??? Who got the touchdown??? Was it Fred Taylor or that Jones-Drew guy?? Crap!!! OK let me go check gamecast! I've got McNabb going up against the Giants defense, but I don't want him to throw to Reggie Brown!" Is this fun for anyone? I feel like I'm one of those guys on Wall Street who spend their lives screaming at the NYSE, checking their PDA every seven seconds and having a heart attack at age 47. Except instead of acquiring vast amounts of wealth, I'm only alienating my friends and family.
Qualm 9)
Benches.
One of the problems with having painfully small rosters is an obese bench. With so many players sitting on your bench and everything coming down to what you do on Sunday, it's simply a crapshoot. "I got Carson Palmer going against the Packers or Jake Plummer going against the Seahawks." Who the hell knows? 50% of the time your decisions screw you. And not because you made the wrong choice, but just because it's the flip of the coin. Everyone drafts like five Wide Receivers and you simply never know which ones will catch that all important TD. Since you only start two, you just cross your fingers that Matt Hasslebeck decides to throw to Deion Branch instead of handing it off to Shuan Alexander. Stupid things like that are what decide your season.
Qualm 10)
"Listed as a 'gametime decision.'"
Since you only get maybe 12 days out of the entire year to flaunt your team, don't you just love it when your star player suffered a concussion the week before and the coach is (rightfully) tight-lipped on his return? Because of the limitations in the football schedule, you play maybe a dozen or so regular season games. And by nature, football deals out quite a lot of injuries. And you're lucky if you know by game time when the rosters freeze the status of your players. It makes my flipping back and forth between the pregame shows and my internet scrounging all the more frantic. And even all the scrounging ability in the world can't save you most of the time. Randy Moss singlehandedly destroyed my team last year by being listed as "questionable" for like three months straight. What was I supposed to do? Start someone else? After a season of Moss, I'm the one who needed a J.
A couple years ago in week 16 - the championship week for many fantasy football leagues, including mine, foxsports.com reported that Edgerrin James did not travel with the team. That was apparently not true because he went out and scored touchdowns and everything. I'm not sure whether to chalk that up to Fox's poor reporting (wow! Just like their news channel!) or the nature of the "listed as questionable" problem.
--------------
In conclusion, I absolutely abhor fantasy football for these reasons. Yet, I feel as if the same reasons I hate it are the same reasons I come back to it year after year.