Welcome Back, Baseball
As Major League Baseball makes its return to network television, so too does Dear Mr. Supercomputer get to finally take in a game. True, it's on Fox. True, I'll probably have to listen to Tim McCarver.
And true, it'll probably be a Red Sox / Yankees game (seriously, if both of those teams had their planes accidentally misdirected to Iraq I would hold up a big banner that reads,
"MISSION ACCOMPLISHED
"
).
But nevertheless, baseball is a part of the Supercomputer family again.
What does the mean for you, the loyal reader? Intreguing insight on the Indians' playoff chances! Analysis of the DH-platoon situation on my fantasy team! Amphetamines!
And, of course, the predicted standings. Last year, we finished very favorably in the Baseball Prospectus "Predictatron" competition. Narrowly missing the top 10 thanks to the Mets totally tanking against the Cardinals. Always a glutton for punishment, we went with the Mets again, not because they're particularly good, but because they're in the National League, which sucks.
American League East

New York Yankees 93 - 69
Boston Red Sox 89 - 73
Toronto Blue Jays 79 - 83
Tampa Bay Devil Rays 73 - 89
Baltimore Orioles 68 - 94

American League Central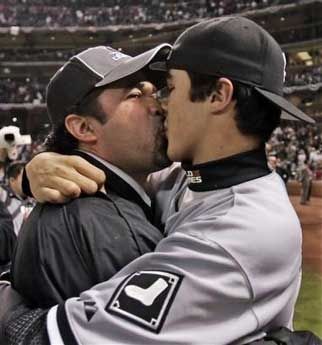 Cleveland Indians 88 - 74
Chicago White Sox 87 - 75
Minnesota Twins 85 - 77
Detroit Tigers 79 - 83
Kansas City Royals 74 - 88

American League West


Anaheim Angels 88 - 74
Texas Rangers 86 - 76
Oakland Athletics 81 - 81
Seattle Mariners 67 - 95

National League East


New York Mets 89 - 73
Philadelphia Phillies 85 - 77
Atlanta Braves 80 - 82
Florida Marlins 80 - 82
Washington Nationals 74 - 88

National League Central


Milwaukee Brewers 88 - 74
St. Louis Cardinals 86 - 76
Houston Astros 80 - 82
Chicago Cubs 76 - 86
Cincinnati Reds 76 - 86
Pittsburgh Pirates 68 - 94

National League West



Arizona Diamondbacks 88 - 74
San Diego Padres 87 - 75
Los Angeles Dodgers 85 - 77
Colorado Rockies 81 - 81
San Francisco Giants 70 - 92

American League Division Series:
Anaheim Angels over Boston Red Sox in 5 games
Cleveland Indians over New York Yankees in 4 games

National League Division Series:
Milwaukee Brewers over Arizona Diamondbacks in 5 games
New York Mets over San Diego Padres in 3 games

American League Championship Series:
Anaheim Angels over Cleveland Indians in 6 games

National League Championship Series:
New York Mets over Milwaukee Brewers in 5 games

World Series:New York Mets over Anaheim Angels in 6 games