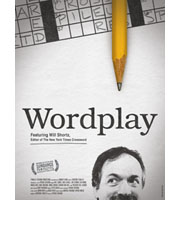 The third in the series of documentaries about over-obsessive nerds
.
In terms of strict moviemaking, the documentary Word Play, thoroughly exploring the world of the NY Times crossword puzzle and its addicts, is superior to both Spellbound and Word Wars. It's much more seamless than the other two with pop music and a cascade of celebs ranging from the Indigo Girls, to Bill Clinton, to Jon Stewart, to Mike Mussina. The interview settings are carefully chosen and shot, making for a more visually appealing film - which says a lot considering the general homliness of the NY Times crossword constituents.
As a story though, it's not as heartwarming as the kids in Spellbound, and it doesn't center around characters as bizzare and engaging as Word Wars. Every central character in Word Play was a welf-off caucasian nerd. In the other docs, the nerds were of various races and backgrounds. For that reason I found it as enjoyable as the other two docs, but missing that extra something that has the audience dropping their jaws.
The one thing Word Play has over the other two (besides the celebs), is a look at how the crossword puzzles are made. Will Shortz and his entourage of crossword creators give us an insight to just how dedicated and how bizzare one has to be to get into the business of a "Puzzle Creator."
I'm sure one day we'll see these three wonderful documentaries as part of a box set. Each examine the subject manner with humor and tenderness, with even a little suspense thrown in. I'm not sure what other obsessive games documentaries could chronicle. The first time I see a doc for "Minesweeper" or something like that, the genre will have run its course. But until then, Word Play nicely caps it for now.