Cheaters never win. Unless of course, they win.
If this is dirt, then I'm a potted plant.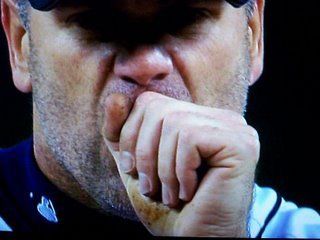 So Kenny Rogers of Detroit was cheating. And was apparently cheating in a similar manner throughout this postseason. The circumstantial evidence is damning to be sure. But my question is this:
Why did Tony LaRussa, manager of the Cardinals - and master of all things anal retentive - not challenge this? Why did he not ask the umpire to even inspect Rogers' hand? Apparently his players were telling him something was funny about the way the ball danced after Rogers released it.
Speculation is that LaRussa is an "Old Baseball Guy" and had enough respect for the ultimate Old Baseball Guy, Tigers manager Jim Leyland, that he let it go after Rogers washed his hand. I have another theory:
he just didn't think about it.
LaRussa is so anal retentive, he was probably checking the batting splits for his third bench hitter in months that start with an 'R' while all this was going on. LaRussa managed games are brutal to watch: endless pitching changes, talks to the ump, talks to the pitcher, it's killer. My guess is he was so enveloped in whatever miniscule bit of information he was trying to process, he missed the glaring problem right in front of him. He missed the forrest through the trees.
Had Rogers been caught officially, he would have been suspended
immediately
. That means the Tigers would have had to go to their bullpen immediately and Rogers would have been done for the season. As it stands, Rogers went on to pitch 8 shutout innings and evened the series at 1-1.
On the news of cheating,
Deadspin.com
- the reason internet was created, had an excellent observation on the recent news of NFL standout Shawne Merriman's recent steroids suspension and the media reaction compared to the reaction of the baseball steroids scandal. I'll let Deadspin take it from here.
If you will, a case study:


August 3, 2005: Baseball's Rafael Palmeiro is suspended after testing positive for steroids. From Michael Wilbon: "Oh yes, baseball is facing a crisis. In this current climate of suspicion, is it fair to start looking at any pitcher with biceps with increased skepticism, too? Well, maybe it isn't fair. But that won't stop anyone. And where, exactly, is the commissioner of baseball while such an obvious crisis breaks out? Apparently hiding under his desk."


October 23, 2006: The NFL's Shawne Merriman is suspended after testing positive for steroids. From John Clayton: "The four-game steroid suspension of Chargers linebacker Shawne Merriman really comes at a horrible time for the team. Linebacker Shaun Phillips is expected to be out four to six weeks with a calf injury. They've lost linebacker Steve Foley for the season. The only outside linebacker of note is Marques Harris or Nick Speegle, which might the Chargers move Tim Dobbins or Donnie Edwards to the outside."